,,New Vision" offera the ability to use short text and voice messaging services to corporate customers:
Advertising SMS and voice messages.
Information SMS and voice messages.
Any other types of messages, which is necessary for the company's business process.
By using portal, the company representative can send any number of messages at any time.
The message can be sent as the name of the company also with a specific telephone number.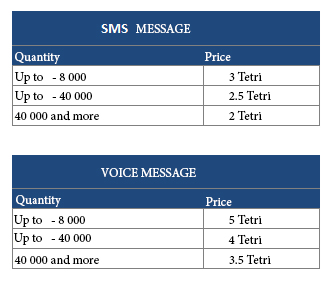 View detailed extras of notifications on the portal:
Sending time
Receiving time
Status
What king of messages was sent
Number of sent messages
For more information please contact us
Tel.: +(995 32) 2 060 000
E-mail: This email address is being protected from spambots. You need JavaScript enabled to view it.